Hotel
King Stephen Hotel
The building that houses the hotel was built in the 18th century, for the manor house offices. Between 1957 and 1987 archaeological research was undertaken in the castle, during which the base walls of buildings that had collapsed in the Ottoman period were excavated and exposed, the 10th century building including the chapel was restored, the lapidary was created and the surviving parts of the monastery were made accessible for the public. In the late 1980s, a restaurant was established to replace former office rooms, and a hotel was created just above it. Two additional storeys were added to the ground floor of King Stephen Hotel, thus giving the hotel the structure we see now.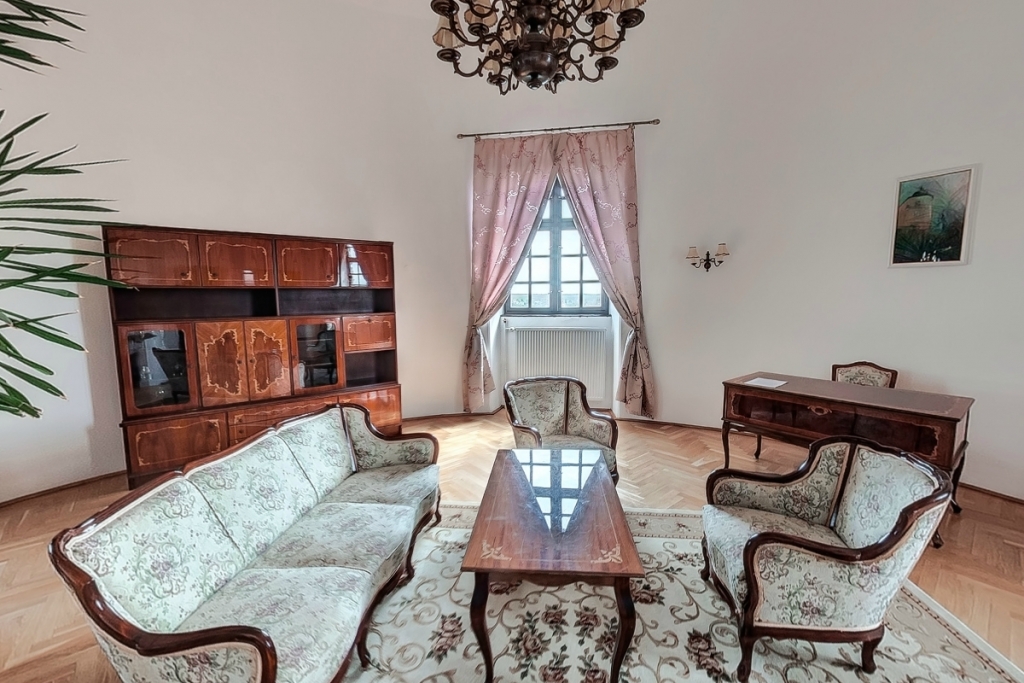 Maria Theresa Studio
As a result of the transformation works done in 2014, the hotel can receive its guests in a completely renewed form. Upstairs, the pilgrims' unit awaits its tired guests: it is a single room with 15 beds. Apart from that, there are 2 single rooms and 8 double rooms located on the same level, with an own bathroom for each, and shared kitchenette, laundry and drier room, as well as a community area. Downstairs, there are 9 double rooms, 4 3-bed rooms, and 3 studios partly in the tower section, offering relaxation for visitors.
Prices of room types:
Room type
Price (/person/night)
Standard double room
12.500 HUF
Standard room for 3
12.000 HUF

Bazsarózsa studio
(double room, in a single room space)​

13.500 HUF

Maria Theresa and István Széchenyi studios
(double room in the 16th century canon tower, with two room spaces)​

15.500 HUF

Room Zengő
(a unit with four adjoining rooms, each for 3 or 4 persons, some of the beds being bunk beds, and with 4 bathrooms)​

6.000 HUF

Extra charge for one person
(to be added to the double room price)​

3.000 HUF

Children discount:

free of charge under the age of 3;
50% off when staying in the same room with the parents, between ages 3-14;

Group discount: to be negotiated, in the case of at least 15 persons

Prices are for a single night, including breakfast.

Local tourism tax: applies beyond 18 years of age, amounting 300 HUF/person/night
Associated gallery
Map
7720 Pécsvárad, Vár u. 45.
Phone: +36 72 671 235
Mobile: +36 30 387 8435
E-mail: info@pecsvaradivar.hu